Talcyon Tube Sheet Mapping
Tube Mapping Solution (TMS) is a software solution designed specifically to produce an accurate layout and labelling of tubes on a tube sheet. Collectively needed for tube inspection and maintenance reporting, TMS offers user-friendly features that allow companies to carry out their reporting faster and more efficiently.

We have a fully developed software solution for you. Don't waste time and resources by developing your own software. Use ours!
Our software is flexible and able to be integrated into your inspection workflow. We are also able to link our software with your hardware.
Cut down manual tube mapping time with our software solution. Makes your operators job easier, increase productivity and efficiency!
Quick Mapping from Photograph or Schematic Drawings
TMS offers multiple detection methods of tubes such as using a photograph or schematic drawings. Custom maps can also be made using rows and columns function. Further editing tools are also available to fine tune mapped tubes.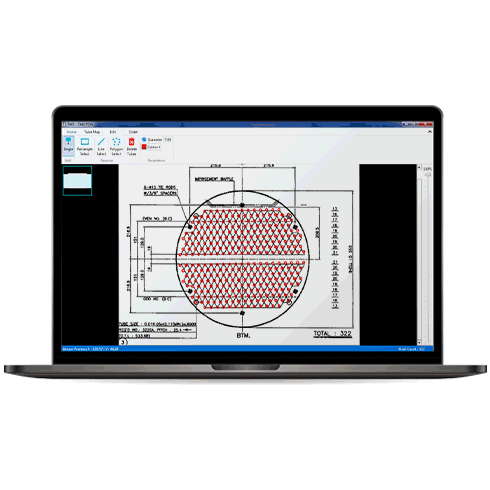 Useful tools for map building
Custom map building allows for creation of tubes in various angles (45, 90, 30 and 60 degrees). Selection tools, mirroring function and zones creation are some of the convenient tools available to build your tube map with ease.
User-friendly. Simple tools.
A simple tutorial is all you need to start using TMS. All features and tools in TMS is easy to understand and strait-forward. Waste no more time using complex softwares which will only prolong your inspection work and start using TMS. 
Integratable reporting capabilities for tube inspection works
TMS provides integrative reporting capabilities with our own reporting software, TMR.
Besides that, TMS is also integrable with the popular reporting software, CARTO.
What other innovative features can you expect?
Build your tube map quickly with TMS. Some of our other notable features include but not limited to:
Quick mapping of tube sheets of over 10,000 tubes.
Colour coding tool
Mini-map for easier navigation for large tube maps
Integration with Reporting Functionalities – works hand-in-hand with Talcyon's Reporting Solution (TMR, a software to translate inspection data into presentable and easy-to-read reports). Find out more about TMR here.
Integration with the popular reporting software, CARTO.
Are you interested in TMS?
Increase inspection productivity and
partner with us today!
Talcyon Software (a division of Talcyon Pte. Ltd, a Singapore based company) is focused on delivering software technological advancements and solutions.