Talcyon Mapping and Reporting Solution
TMR is an end-to-end inspection software solution which integrates with the hardware of inspection equipments. This incorporation creates a simpler workflow for inspection jobs from creation of inspection layout, inspection data management, automated graphs and charts, and report generation, thus, increasing productivity.


We have a fully developed software solution for you. You only have to integrate your inspection equipment with our software and you are good to go.

Our software is efficient, flexible and applicable across various industries. Optimising workflow to maximise the strength of your inspection equipment.
Simplify work processes into a single workflow for smarter and faster inspection results. Improve data management, storage and representation.
Quick Mapping of Inspection Area
Equipped with mapping capabilities, TMR is able to immediately create a layout of the inspection area, equipment, machinery, etc. This feature is best used for but not limited to tube bundles, pipes and tubing, engine blocks, machine parts, etc. Create a map by auto-detecting tubes on a tube sheet or by inserting pins to different parts of a machinery.
Gone were the days for manual mapping on physical sheets of paper. Speed up your inspection process and get things done more efficiently.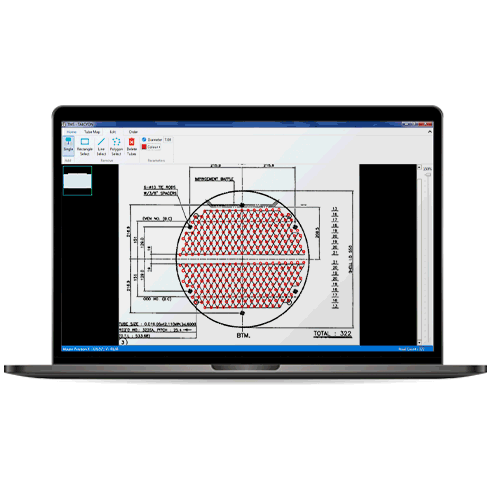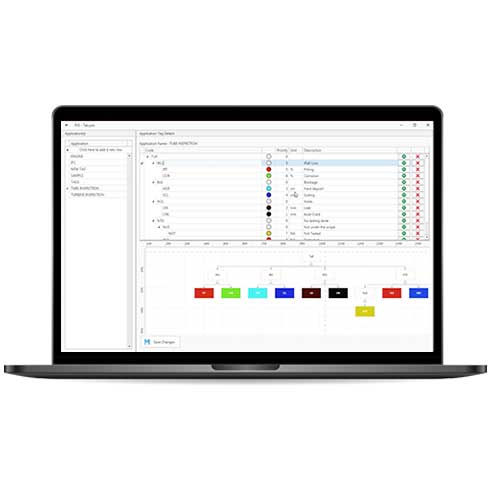 Custom Defect Tag Creation
We understand that there isn't a universal defect type across all industries. Thus, we have developed customisation for users to create their own custom defect tags.
Construct your own defect tag tree with colour codes, priority levels and units of measurement.
Instant Tables, Charts & Graphs for Reporting
With the built in data management capability, TMR is able to translate and visualise these information into data tables, charts and graphs. A simple checkbox selection of the important diagrams in the report explorer will input them into the final report template.
There is no need to tabulate and generate these diagrams manually anymore.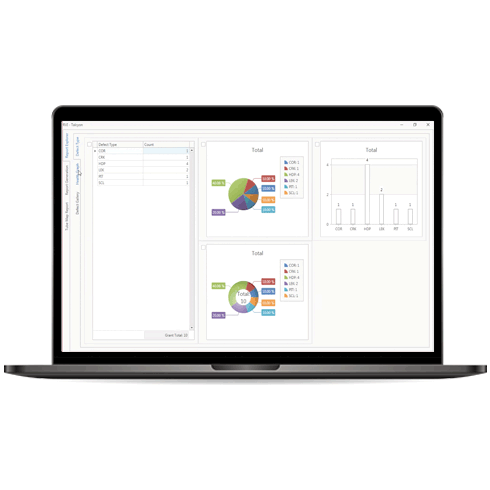 Report Generation in 5 minutes!
Cut down your report making time with TMR. Project information are automatically added into the report from the data management storage. Select the important photos, tables, charts and graphs from the report explorer to generate your report with just a few clicks of a button. Add any additional information to the report.
Work with us to customise your report template according to your standards and needs.
What other innovative features can you expect?
Upgrade your inspection quality with TMR. Some of our other notable features include but not limited to:
Quick mapping of tube sheets of over 10,000 tubes. Find out more about Talcyon's Tube Mapping Solution (TMS)
High quality live feed of inspection camera
Photo capturing or video recording of the camera feed
Side view (colour beam) visualisation of defects and their location in long pipes and tubes

Mapping and Reporting Software integration
for Acoustic Pulse Reflectometry Inspection System (APRIS)

Mapping and Reporting Software integration
for Eddy Current Inspection Equipments
Mapping and Reporting Software integration
for Remove Visual Inspection Equipments
Interested to integrate your hardware with TMR
to increase inspection productivity?
Partner with us.
Talcyon Software (a division of Talcyon Pte. Ltd, a Singapore based company) is focused on delivering software technological advancements and solutions.